Are you planning to go to the king of the gulf, Dubai? You might have heard about the famous desert safaris of this wonderful city. You will surely be excited to hit the desert with a 4×4 SUV and enjoy feeling your adrenaline rush. Apart from the SUVs, the quad biking, sand boarding and camels are equally thrilling. This makes safaris the most exciting things to experience in Dubai.
With the plans all set, you might wish if you could have an agency to make your trip memorable. No worries because we are going to make your task a lot easier.
Choosing a tour operator
The city would be new to you and you will surely not want to miss out on any fun. Having a tour operator package is always a wonderful option. The companies are very professional and make sure that you get the best out of the safari. Choosing the right company is very important and can be a confusing task. There are a lot of options available, ranging from low cost to expensive. Choosing a cost-friendly yet good package is very important.
How to choose a cost-effective desert safari ?
It is ideal to find a good balance between price and quality. Cutting down on the price can reduce the fun. An expensive package can also trouble your budget. It is important to know where you can save money. Different companies have different strategies to cut down the cost.
Various factors to consider are:
Reviews of the company service
Safari type
Food arrangements and quality
Price
Reviews of the service – This is probably the most important factor. It helps in shortlisting reliable companies. There are various websites on the internet that have community reviews. The ones who send their own staff are good companies. You may avoid freelancers because they are unpredictable. Make sure the company sends its own safari guide. They are trained, professional and reliable.
Safari Type – There are various options for safaris. You may choose from dune bashing to wildlife drives, classic cars to luxury cars, etc. If you are fit, healthy and ready for some thrill, then dune bashing is a good option. These are not for the faint-hearted people.
If you want to avoid such an experience, you may choose wildlife drives. You'll gently cruise through the dunes spotting animals in this safari.
Most safaris are conducted in SUVs like land cruisers and ford expeditions.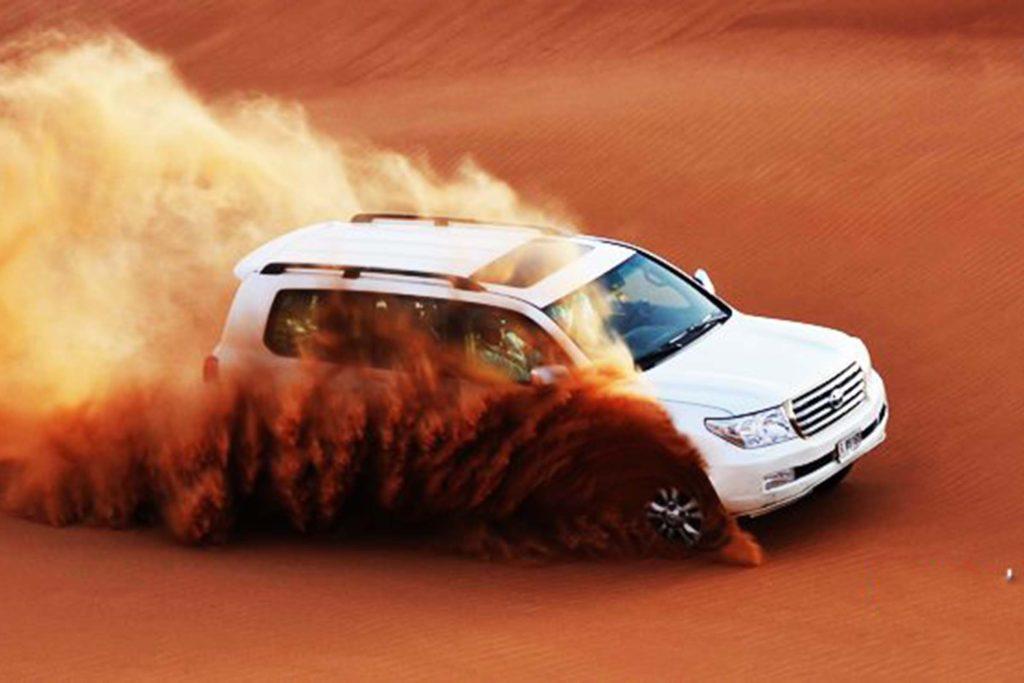 Food arrangements and quality- Food options will increase the budget depending on the quality. Fine dining will cost more than fast food. A native cuisine will cost more than BBQ and curry. If you can ignore the food options, the cost of the safari will considerably reduce.
Price – Very low-cost packages will include shared camps, freelancers and cheap food. These might cost below AED 100.
Economy packages might include large private camps, freelancers and average food. These may cost around AED 250.
Premium Packages have small private camps, trained guides and quality Emirati food. These cost around AED 500.
Luxury Packages have private set-up, in-house guides and best quality food by onsite chefs. They will also have brilliant entertainment facilities. They cost around AED 1500.
Keeping the above factors in mind, you can choose the right package. Economy packages can be preferred if you are tight on budget.
Groupon vs Cobone
Groupon and Cobone both are widely sought-after options for safari packages. Both provide attractive discount vouchers and help save a lot of money. They have contacts with good tourism agencies and arrange great cost-efficient deals. Since both have been neck-to-neck in present times, we will discuss them here.

Groupon-
Groupon is an international brand. It has branches across 48 countries. It has its headquarters in Chicago. Groupon is widely preferred in Dubai, Sharjah & Abu Dhabi.
It has very attractive packages for customers. For example, we can take its deal with Atlanta Tourism. It offers a 20-minute quad ride for four people. Classic Safari will have a centralized pickup. VIP desert safari will have a personal pickup option. They have dune bashing, camel riding and sandboarding. Food options are Barbeque Buffet Dinner with veg and non-veg variants. They also hold cultural dances like Tanoura or belly dance. This package costs around AED 100 (per head).
Its deal with Iconic Tourism is also very popular. They offer dune bashing, sand boarding and camel rides. Quad biking is also available. They provide Arabic costumes for pictures. Dinner options include Barbeque Buffet Dinner with veg and non veg variants. Cultural dances include Tanoura and belly dance. Fire show is also provided. This also has VIP as well as classic options. It costs around AED 120 (per head).
Cobone –
Cobone is a regional company. It has made its mark in a short time. It operates in cities including Dubai, Abu Dhabi, Sharjah, etc. They are particularly famous for offering wonderful discounts.
Its package with Emirates Knight Tourism is a popular example. They offer dune bashing, camel rides and sandboarding. BBQ Buffet Dinner is available in veg and non-veg. They offer unlimited drinks and refreshers. The quad biking duration is 20 minutes. Tanoura Dance, Belly Dance and Fire Show are the entertainment options. The package costs around AED 60.
Comparison –
Both Groupon and Cobone are extremely popular. Cobone offers brilliant discounts. It is cheaper than Groupon.
But, Groupon is better in terms of the service they offer. Groupon has a better reputation for quality than Cobone.
If you have an extremely tight budget, then you may choose Cobone. If quality is more important to you, then you may go for Groupon.
Direct deals from travel agents
Direct Deals from travel agents are also an option for Dubai desert safari. Travel Agents have their own packages which ensure you travel, accommodation and food. These are different for people from different countries and are expensive for safaris. They have an entire package for the whole trip. They contact safari agencies in a private capacity. The cost is more than that of Groupon or Cobone. If you want a cost-friendly safari, these are not considered the best options. It is suggested that you see their cost breakup and decide on your trip accordingly.
Have a happy desert safari!