Dubai is the city of dreams for many reasons but going to Dubai but returning without tasting the desert experience of Dubai is not a good thing. Despite its hot nature, the Dubai desert is one of the best places to visit. Dubai desert safaris offer two kinds of activities: cultural and adventurous. Before booking the tickets for the desert safari, make sure you go through all the activities performed. For example, if you are not choosing the adventurous activity package, you may not participate in activities like snowboarding and quad biking etc. Similarly, riding on a hot air balloon or the camel may only be available in selected packages. Make sure to check out websites like Cheap Desert Safari Dubai to get the complete information.
Here are a few tips to help you with your New Year Desert Safari Dubai.
Wear comfortable clothing.
As we know, the type of clothing we wear should change based on the place we visit. There is a reason why the people of Dubai wear certain kinds of clothes. To avoid problems and discomfort related to clothes while enjoying a desert safari in Dubai, you should preferably wear casual, comfortable clothes. It would be an ideal choice for an evening desert safari for you to enjoy the safari to the fullest. Regarding the footwear department, it is advisable to wear open shoes, flip flops or sandals. The reason behind this choice would be, you are frequently going to be on and off the vehicle onto the sand.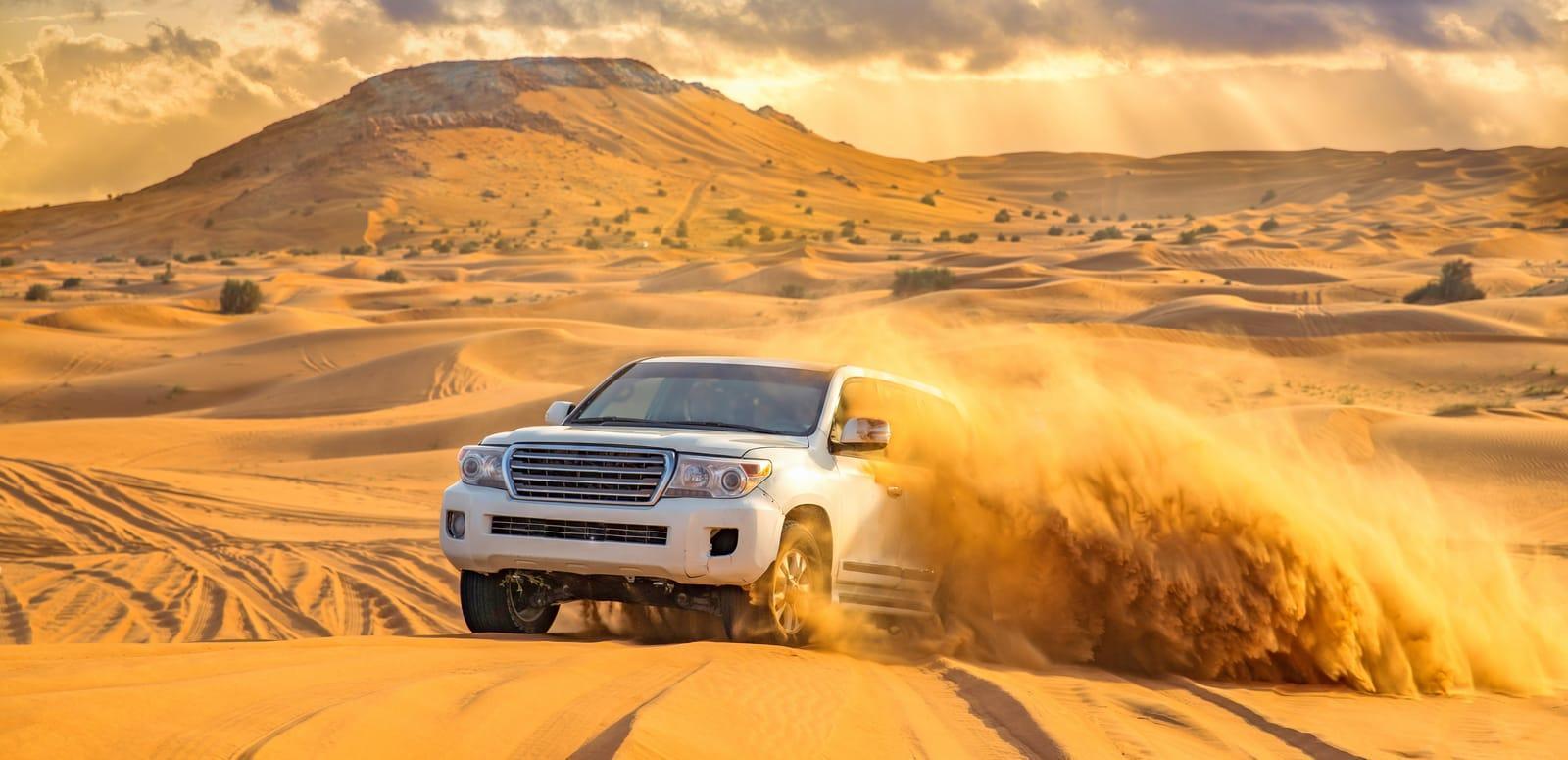 Always listen to your instructors.
When you are in an uncharted terrain, it is sensible to take help from someone familiar with the landscape. There is a famous activity called Dune Bashing, and this can be a rough roller coaster ride. If you are old, have a small child or have specific health problems, please listen to the instructor carefully before performing any activities. This is essential for your safety and your children's safety.
Pack as light as possible.
Most tourists pack an enormous amount of things while enjoying the New Year Desert Safari Dubai. This is actually due to ignorance. This can be possible in places where the heat of the scorching sun was not an issue, but in places like Dubai, that too in a desert, you easily get tired very quickly. It will not be a pleasant experience roaming in a desert with heavy luggage. It is advisable to carry only the essential items like sunscreen and sunglasses and pack as lightly as possible.
Choose the right time to go.
As per the number of tickets sold records, wintertime is the most sold time for Desert Safari in Dubai. Most people choose evening time over morning timing because morning timings quickly move from cool to hot while you can get to catch the beautiful sunset in the evening. Choosing summer is the wrong choice, but if you are an adventure enthusiast and want to get the real taste of the Dubai desert with a desert safari, we have a desert Safari Dubai for the summer package. Most people choose winter evening, and we also recommend selecting this package, especially the New Year Desert Safari Dubai, to get the best out of Dubai.
Conclusion:
 Head over to Cheap Desert safari Dubai and choose the best package according to your convenience, considering the pricing and the activities included to enjoy the New Year Desert Safari Dubai.