Ski Dubai, UAE -Timing, Address, What to Wear, Best Time to Visit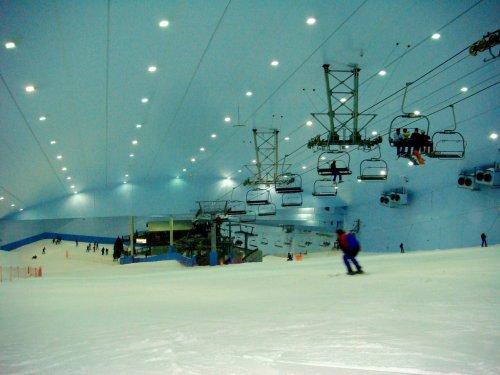 The Ski Dubai is a popular indoor ski resort located inside the inside Dubai Mall. If you want to experience the fun of skiing in an indoor space, then Ski Dubai is what you're seeking for. Middle East's first indoor ski resort was opened in November 2015. A snow- land of nearly 3,000 square meters is waiting to be explored at Mall of Emirates, one of the largest malls in the world situated at Dubai. A big amount of  25bn dirhams or estimated £4.35bn was spent to build the ski resort. It has an 85-meter high mountain with 5 slopes in different directions. All the playful things you need in a snow world is available there. A variety of rides and activities can be enjoyed here like ice body slid, snow bullet, giant balls, snowboarding, tobogganing.
You can enjoy a quick snack while riding a chairlift, which will offer you another great experience. Penguin spotting is also one of the distinguished features u must not miss during the visit (done at different times of the day). If you are fearless then you might want to try a quick 15-minute swimming session with penguins.
Ski Dubai Timing
The amazing ski land attracts tourist from all over the world through the year. The timings of the snowy Adventureland are as following –
Sunday to Wednesday – 10 am to 11 pm
Thursday – 10 am to 11 pm
Friday – 9 am to 12 midnight
Saturday – 9 am to 11 pm
The time varies during festive seasons. The best time to visit the penguin encounter is done during 12- 9 pm every day. All rides will be available throughout the whole day, and you will have to book tickets for specific rides which has a particular timing. This place is listed under our top 10 tourist places to visit in Dubai.
What to wear in Ski Dubai
While visiting Ski Dubai equipment can be bought from the sports shop which is situated near the Ski Resort. You can buy hats and gloves if you want. As the place is very cold I might recommend you to bring your own gloves for comfort. The helmet for kids is provided for free at the counter. You must wear a full shirt and can also choose to wear your own socks which will fit you better, otherwise, they will provide free size socks and jacket. You will get big black boots which will help you to walk easily in the snow. The staff will ask your size and weight and will provide equipment according to your suggestions. Hardboard and ski equipment will be given to you quickly check them before entering the skiing area. Locker will be provided in the changing room where you can keep your belongings. You should carry very little things while visiting the resort as it will be quick and hassle-free for you. I would recommend you to carry a specific amount of money and your camera while entering the area.
Best Time to Visit Ski Dubai
Dubai has particularly a hot tropical season throughout the year, so there's no specific month to suggest. If you want to experience a cool atmosphere then Ski Dubai is available from the morning till night. However, you should always go for morning sessions of skiing for a refreshing feeling and there will be many rides to catch so you might need a good amount of time to explore everything.
If you have Ski Dubai on your bucket list then you can book your tickets and find the required information from Jashan Tourism. The company also offers great discounts and offers to its customers. Jashan Tourism has different packages for big families and also for couples. They also have other great amenities which will help you plan your trip in a great way.