If you are going out in Dubai with family or love one then you must try these most expensive restaurant in Dubai which are romantic and 5 stars – updated in 2023. Dubai, the city of extravagant luxury and an epitome of modern architecture is the perfect example of a place housing few of the world's priciest restaurants and lounge bars. Along with modern architecture and state of the art facilities, these restaurants offer a wide variety of rare cuisine crafted artfully by world renowned chefs. Let's explore the ten best and few of the most expensive restaurants of the ruling emirate of UAE.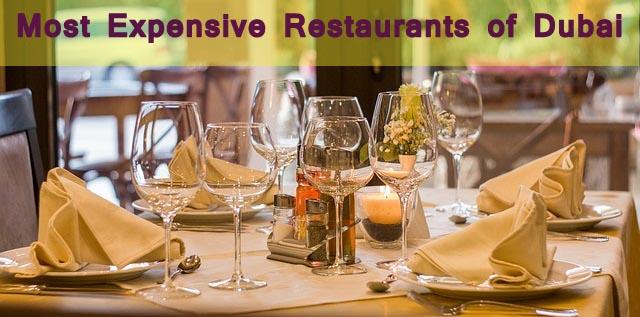 Al Mahara: The very ambience will tell you why this restaurant is the most expensive in Dubai. Set amongst a floor to ceiling aquarium, this underwater fantasy restaurant is situated in the famous seven star hotel Burj Al Arab. Along with antique wines, the menu offers rare dishes like foiegras ravioli and poached oysters along with other mouth-watering seafood cuisine. People specially visit this place for Wagyu Beef. All the menus are ala carte and approximate cost for a couple is $460, excluding beverages.
Pier Chic: Set amongst a stunning background amidst the blue sea, this restaurant offers an expansive view of the sky, ocean and the Burj Al Arab hotel. A long wooden pie leads to the restaurant which has clean décor and soft traditional music. It offers fixed menu seafood dishes and crab risotto and poached trout are the most popular dishes. Approximate cost for a couple is $450 and more excluding beverages.
At Mosphere: Termed to be the world's highest restaurant, this place offers a stunning view of the city from the 122th level of BurjKhalifa. The place has a romantic ambience and offers speciality dishes like veal tartar and seared langoustine. Cost for a couple is about $350 onwards which excludes beverages.
Al Iwan: One of the several restaurants of Burj Al Arab, this restaurant has gained popularity due to its rich red and gold décor and mouth-watering Arabic traditional cuisine. Specialities include babaganoj, mixed grill and vine leaves. Approximate cost for two would be around $300.
SahnEdar: This place is best suited for an afternoon brunch or an evening tea for business travellers. It offers world class pastry and champagne. The décor has a traditional touch with marble flooring and bright colourful upholstery. Around $280 is required for a quick bite for a couple.
Zuma Restaurant: Unique for its Izakiya way of dining, where food is meant to be shared, this restaurant is located in the financial hub of Dubai. There is a main dining space along with an extravagant sushi bar and private enclosed dining. The restaurant houses its own wine cellar and cost for a couple is approximately $260.
Junsui Restaurant: Located in the seven star hotel Burj Al Arab, this restaurants offer Asian, Indonesian, Thai, Chinese and Korean cuisine. The uniqueness lies in the extravagant décor and 12 live cooking counters with 45 chefs. The ceiling is studded with hundreds of Swarovski crystals. The ala carte menu would be approximately $260 for a couple, excluding beverages.
Majlis Al Bahar: Located on the private beach of Burj Al Arab, this restaurant is an open air affair with only tables, chairs and lamps tastefully set and decorated. The freshness of the sea, the sand and the cool breeze makes it one of the best places to dine. It offers cuisines from the Mediterranean and Middle East and approximate cost for two is $200 and more excluding beverages.
Eauzone Restaurant: Located in the famous Royal Mirage luxury resort, the restaurant is set amongst the sparkling blue swimming pool with a wooden winding pathway leading to it. The area is covered by palm trees and the restaurant area is divided into tents. Asian Fusion food is generally served here amongst which seared quail and sashini are the specialties. Cost for two people approximately starts from $200.
La Petite Maison: Famous for its simple French décor and simple dishes, this restaurant offers a mix of Mediterranean, French and Italian cuisine. Razor clams, whole sea breams and foiegras are specialty dishes and cost for a couple is approximately $300 onward.
There are several other restaurants which boasts of rich décor and extravagant style of dining. Amongst them are Margux and Zheng He's restaurant. The above places are best for travelers who would like to taste the richness of the emirate and savour the very essence of fine dining.